AP&T In Brief
AP&T is an innovative industrial company from western Sweden in the sheet metal forming industry with operations and customers all over the world. The company develops and delivers complete production lines, individual presses, automation, furnace systems and related services to customers primarily in the automotive industry.
Our headquarters are located in Ulricehamn, Sweden as well as the development and production of automation, furnace systems and integrated production lines. The company's presses are developed and manufactured in Tranemo and parts of the service operations for the Nordic market are in Lagan, both in Sweden. Internationally, AP&T has established sales and service offices in Shanghai (China), Burbach (Germany) and Monroe, NC (USA).
AP&T's roots were formed by small local entrepreneurs in Lagan, Tranemo and Blidsberg, Sweden who chose to join forces to face competition on the world market in 1989. AP&T is wholly owned by Fairford Holdings AB.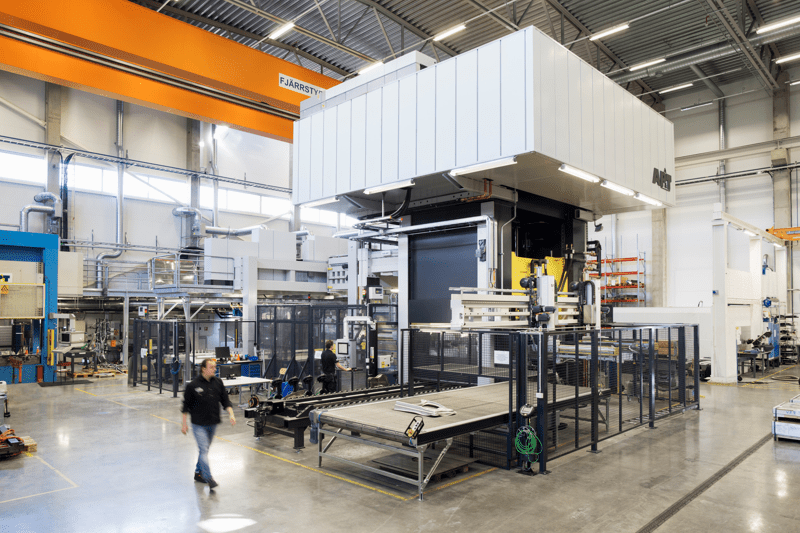 Our Stories
I actually wanted to be a 'normal' electrician, working with installations in people's homes. But then I interned with AP&T and thought what the company does is great. I started working the day after graduation. So my first summer, I had a real job, even with vacation, while most of my friends still only had summer jobs. It was a strange feeling.

Alexander Ahlgren

Teamleader, Ulricehamn
We strive to be world-leaders in our area and if that's going to happen, we need to be on the cutting edge of technology. Customers come to us wanting to make their processes more efficient and it's up to us to come up with how to do it. We don't have anything resembling a production line here, we always work with customer customizations.

Daniel Staafjord

Software Designer, Tranemo
We have but one world, and we have to take care of it. I'm interested in new technology and think we need to constantly develop, though not at the expense of the environment. You have to find the most energy-efficient processes possible. It's also obvious that our customers are asking for this more and more. Energy-efficient machines are also cost-effective.

Tuan Pham

Customer Project Manager, Ulricehamn
Hydraulic technology is fascinating. In Sweden and the Nordics, we are pretty much alone in manufacturing hydraulic presses. The design of the machines is solid with major output and flows of several thousand liters per hour in the hydraulic system. A great advantage of working at AP&T is that you get to follow the product throughout the cycle, from the idea stage until the machine is complete

Daniel Gustavsson

Head of mechanical and hydraulic press design, Tranemo